I am so excited!
About a month ago, I finished up two banners and tonnes of hanging garlands for parties being held for the cute girlies of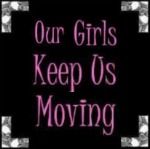 C ha her party on March 3rd and I'm super excited to share with you the cute things I created for her Bakeshop themed party!
Rainbow banner with bright purple ribbon


Hand cut cupcakes on hanging garlands
This paper was absolutely PERFECT for C's party!
I cannot wait to share the links with you to Ms. C's party! Such an inspired theme, but something so incredibly delicious, yet simple.

A cupcake
A few sprinkles
One very lucky little girl!